Quizlet: Learn Languages & Vocab with Flashcards
Get Help When You Are Learning a Language
If you want to study there is nothing to say that it cannot be done via an app. When you use the Quizlet: Learn Languages and Vocab with Flashcards app you will find it really is an ideal way to get the information you need. You can start at the beginning, practice a little and then go further until you have covered the entire topic. To help you there will be millions of flashcards and if you find it easier to create your own, then that is a possibility as well.
Students are great fans of the app and have found it easy to use. Each month it is thought that upwards of 50 million students use it and it is an ideal way to learn languages.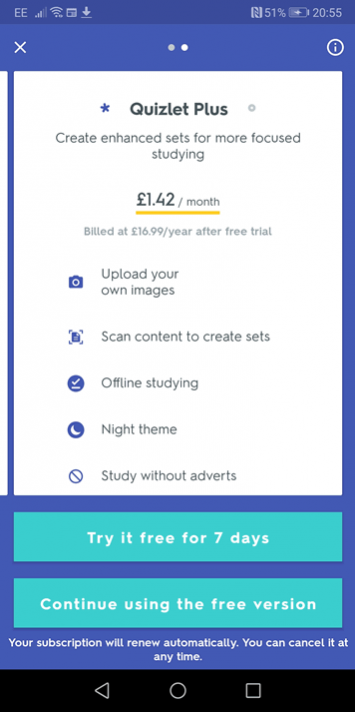 When the app is first installed, there is the chance to have a 7-day free trial. Once the trial is finished there will be a charge of £16.99 per year. You will be able to upload your own images and this will mean that you can tailor your study to what you want. Information can be scanned and then set out on sets of flashcards. You don't even have to be online to use some of them and something that is a big hit with many students is that there is a way not to have to see adverts.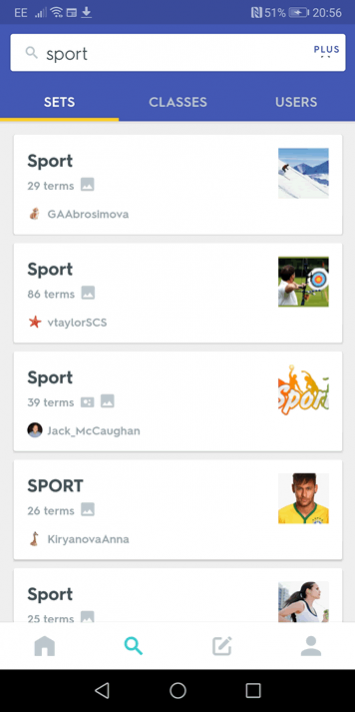 Once you have selected the topic that you are going to study, you can find all the information that you want. Your learning will be done via flashcards and different sections will help you in different ways. You can use Learn to prepare for your tests, use Write to test yourself – make sure that you have learnt as much as you need to. To ensure that you are going to be fast enough, you can use Match – this will mean you need to work against the clock.
It is not just you who can learn via the Quizlet app. Flashcards can be shared with others and between a group, a lot of information can be collected.It will save a lot of time sitting in study halls or trawling the internet and books for all of the information you need.
Not only can you learn languages –Italian, German and Spanish and others, but you can also have your studies read aloud and in up to 18 languages. It is not only a way to get information about all of the subjects, but they will cover the work that is covered in GCSE's.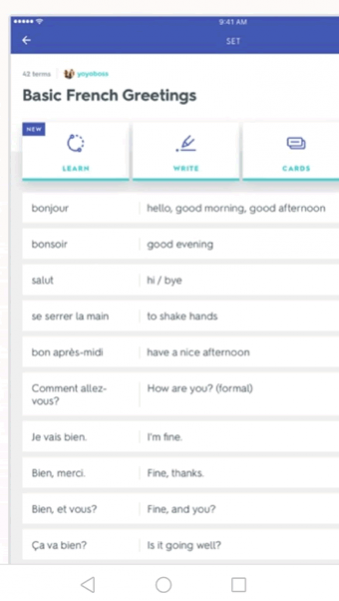 Once a language has been chosen then you can find plenty of information. There are thumbnails that will let you know what each link will be detailing. As everything is set out in order it will be easy to work through the syllabus. The words will be clear and the sentences and comments will be ones that are likely to be use in everyday conversation.
Features
Suitable for solo working or in groups
Read or listen to material to help you learn languages
Can use pre prepared flashcards
Can make your own flashcards
Suitable materials for teachers to set work for students
Share work with others
Conclusion
The app is going to help students, tutors and people who just want to learn about a subject. All the information will be there and set out in a way that is easy to read and understand. There is a cost to using this full time, but it is worth it for the study help you will receive. If you want to prevent the ads from coming through that is possible, but for many they have not been much of interference. If you are serious about getting good results then it will be well worth your while studying through the Quizlet app.
---
Add a review
Tell us your experience with
Quizlet: Learn Languages & Vocab with Flashcards
RELATED PROGRAMS
Our Recommendations
---
---
---
---